FASTER: Spend less time scanning and instead focus on what matters to you. Scan A0/E-size color documents in just 3.5 seconds and get all the details you need.
SMARTER: Works the way you do. Collaborating with large plans and documents suddenly becomes a seamless part of your day-to-day operation. IQ Quattro is networked with your entire workgroup and Cloud enabled so anybody in your project team can use it from their smartphone.
BETTER: Shadows and unwanted background are suppressed leaving you with crisp, sharp and natural scans – ready to be used in your continued workflow.
Unique technology: With Contex CleanScan CIS modules, superfast Ethernet and award-winning Nextimage software, Contex IQ Quattro is the leading scanner for technical projects.
IQ Quattro scanners are ideal for project groups. Scan documents and enhance your files in AutoCAD.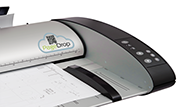 KEY FEATURES
Fast, crisp and sharp scans of regular and oversized documents
Fit for multi-site network
Scan speed up to 14 ips / sec in color with Sigma and CFR
CleanScan – provides leading image quality
Gigabit Network
Magnetic document guides
Using only 0.5W in standby
Recovery from standby in just 1 second by simply loading the document
Cloud Enabled
UP TO A0/E-SIZE ORIGINALS
Return guides for easy document handling, by returning documents to the user with rewind through scanner. Return guides are detachable. Magnetic document guides can be used to support long documents and makes precise document loading easier.
CONTEX CLEANSCAN – PROVIDES LEADING QUALITY
With new methods for diffusion you you will get the most natural light in your scans.
MORE POWER IN EVERY PIXEL
Contex CleanScan CIS modules with unmatched image quality combined with the award winning Nextimage Software.
PAGEDROP ENABLED
Any PageDrop enabled Contex scanner can send documents directly to your preferred destinations. PageDrop does not require a PC. Instead it simply utilizes your smart phone or tablet to control the process. Load the document, scan the QR code, and send the document directly to your desired destination.
Designed for optimal ergonomic working environment.
Height adjustable stand in 3 positions.