Contex Large Format Scanner Sale in Vancouver BC to SFU Archives & Records Management Department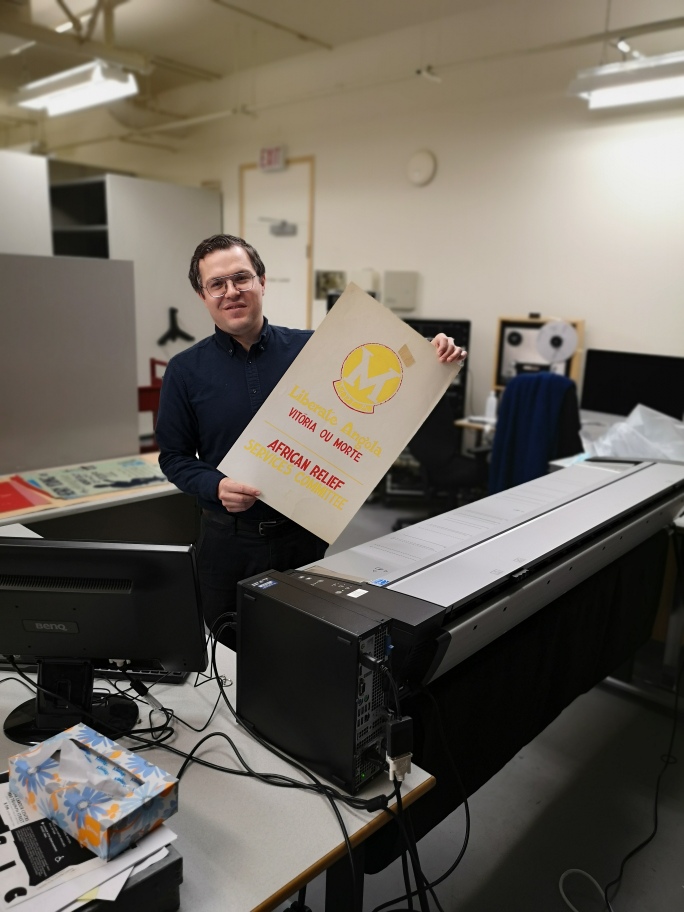 Interview with Matthew Lively, by Quinn Diepold, Micro Com Systems Ltd. May 2022
QD-Matthew, what is your title here at Simon Fraser University?
ML-Archival Technician | Archives and Records Management Department
QD-How long have you been working at the University?
ML-I started at SFU Archives in February 2018 in a temp position as the Records Centre Clerk, so just over 4 years now. I didn't really have any idea what working in an Archives would be like when I took the position, but it turned out to be a really great fit. During my time as a student, I had a kind of perverse enjoyment in gathering research material and organizing it all in a way that makes it more coherent, and it turns out this is pretty close to what an archivist does in arranging and describing records (all the fun stuff before having to sit down and write a paper). So I kept seeking temp roles in the department and applied for the Archival Technician position when it was posted in 2019.
QD-What did you do before?
ML-I was working on my MA in English literature until 2017 and then I had a brief stint as a night baker on the Sunshine Coast. Besides having to stay up all night, the position was pretty rustic and peaceful. My commute was a 10-minute boat ride at sunset on the way there and at sunrise on the way back. I made hundreds of cinnamon buns each night and learned how to make sourdough before everyone else started doing it at home.
QD-What do you like about your work?
ML-I like that I get to work with researchers to identify material related to their projects. Usually I get an email or a phone call from someone explaining what they're working on, and then I get to go dig around in the vault for anything that might have a connection to their topic. It's doesn't always happen, but it's really rewarding when I can help a researcher find a missing link that ties a project together.
QD-What are some of your daily projects you get to work on?
ML-I have an arrangement and description project that I work on when it slows down with researchers. This involves pulling out a box of dusty records and sorting them into groups based on record type (e.g., I might group all the correspondence together, put all the photos into a separate container, etc.). Part of the fun of this is being the first to see records that the Archives acquired.
As an example, I recently completed the fonds for Barry Beyerstein, who was a psychology professor at SFU interested in how conspiracies and myths gain currency in society. He looked at why people believe in things like ghosts, UFOs, and ESP, for which he gathered a lot of newspaper clippings that report these types of events or sightings as factual stories.
QD-Why is digitization important today?
ML-I think preservation is the main reason for digitization at SFU. Our analog film and audio reels are quickly deteriorating, and making digital copies is the only way we can ensure that the content will be available going forward. The other reason is for access. Large format records, such as posters, are difficult to handle and are easily damaged, even in simply taking them out of storage and bringing them to the Reading Room for a researcher to look at.
QD-Your department recently purchased a Contex Large Format Scanner from Micro Com Systems. Among the many positive features of this scanner, it is unique in that it can scan up material up to 60 inches in width. What made you decide to purchase this particular scanner?
ML-The size of the scanner is definitely our favorite feature. We have a lot of conceptual drawings for the University, including some from Arthur Erickson, which we're really excited to get digitized and make them available.
We're also completely amazed with the speed. It only takes a few seconds for a high-resolution scan of a large poster (quicker than we can feed them and record metadata in our log).
QD-Is the scanner easy to use?
ML-Yup! We had student temps in last semester and I think training on the scanner took less than 5 minutes.
QD-Are you happy with the finished scanned images?
ML-I was looking at some of the scans from a series of photographic prints we did and it was like I had the original in front of me. The detail on the image is really sharp, which you especially see on a signature or anything that's handwritten.
QD– Can the general public can view some of the projects you have worked on?
ML-Not yet, but we're very close to adding digitized content to our database, SFU AtoM: https://atom.archives.sfu.ca. We have large prints that document some of the first performances put on by the SFU dance programs that should be going up within the next couple weeks. After that, we going to work on Press Gang Publishers posters. They were a feminist press that was active in Vancouver in the 1970s and have some really cool posters advertising events and rallies from that time. The plan is to make these available later this year.
Contex Large Format Scanner Sales in Vancouver BC
For more information on large format scanners, please contact Micro Com Systems.
Special thanks to Quinn Diepold on this guest blog posting.