Why you should digitize large format documents like blueprints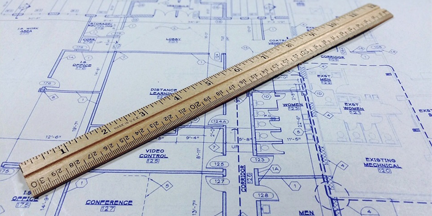 Is your office packed with full-sized blueprints, maps, architectural drawings, construction documents, or engineering documents? Maybe it's time to get professionally scanned blueprints!
Save valuable space: Storing large format documents and blueprints takes up more space than standard letter- and legal-sized papers, which easily fit in folders and filing cabinets. Large format documents are often rolled so they don't crease and as you know these can take up a LOT of space and aren't always easy to organize.
We suggest digital scanning of your documents save precious office and storage space. They can be scanned into digital formats (including TIFF and PDF) and can be stored on local or remote servers for your team to access or reference quickly anytime when they need.
Prevent from loss: When the only copy of your next building project is in paper format and there is a theft or fire, you need to start redesigning from scratch, wasting time and money to try to recreate your drawings.
However, once you have completed your documents, have your blueprints and any other large format documents professionally scanned and digitally organized. This way, should your original copy degrade, get destroyed, or even get coffee spilled over important details, you can still access your preserved digital copy so it won't all be lost.
Archive and preserve documents: Often once a building project is completed and you don't need regular access to the original blueprints anymore, at least not in hard copy, have them professionally archived in digital format. Archiving blueprints and large format documents in digital format is great for easy accessibility by any member of your team who needs it in the future.
About preserving already sensitive large format documents
Many of our clients are concerned about protecting their original documents, which may already be in poor or brittle condition. At Micro Com Systems we have large plastic sleeves that envelop the drawings to protect them from damage during scanning.
We can scan virtually any type of media from paper, sepias, vellus, blueprints, transparencies, and even mounted materials. Our KIP and Contex scanners run in 2 shifts per day in our Vancouver scanning facility.
For a free sample and estimate for your project, submit a Large Format Scanning Services form.