Filing Cabinets and Document Scanning Services For Vancouver Businesses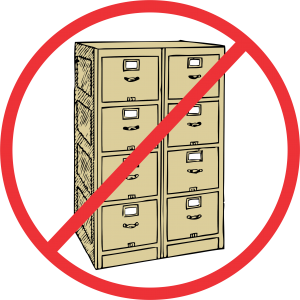 What do we have against filing cabinets? After all, they are part of every office in every corner of the globe. They are certainly innocuous enough, lining the back walls, painted in neutral and pleasant colors like "Putty" and "Ivory", often decorated with plants and books.
Filing Cabinets For Vancouver Businesses
How could anything this ubiquitous and time tested bother anyone? As it turns out, there are a lot of very valid reasons to dislike filing cabinets. For starters, they are very expensive to purchase, but merely buying them is not where their cost ends. With office space going anywhere from $30 to $40 per square foot in many Canadian cities, a single small (18" X 36") lateral cabinet costs roughly $160 every year it sits there. Most offices have many banks of these cabinets.
Additionally, filing cabinets are made up of fairly complicated components, like interlocks and wheels/guides. Filing cabinets, like any other mechanical systems, require annual maintenance to operate properly, and this is another cost borne by offices.
Common Incidents Caused By Filing Cabinets
In North America, 42,000 people were injured in filing cabinet related incidents between 2015 and 2020. Common incidents included:
cuts and abrasions from slips (contact with drawers left open)
muscle strains and sprains (lifting files in and out of cabinets)
bruising (contact with filing cabinet drawers)
major injuries from unbalanced filing cabinets falling on workers
Obviously, filing cabinets are a danger to one and all. Fortunately, the solid corporate citizens at Micro Com Systems have a strategy to help eliminate this menace once and for all.
Vancouver Document Scanning Services – Let Us Help You!
Micro Com Systems has been digitizing the contents of these filing cabinets since 1992. Scanning is a one time cost, and is surprisingly more reasonable than paying forever for dead storage.
Not only will you reclaim expensive office space and provide a safer work environment, you will reap massive benefits in terms of staff collaboration , and vastly enhanced customer service.
Additionally, imagine never losing a file again!
Contact the team at Micro Com Systems today to make the first step towards file cabinet liberation today.