Why we recommend large format document scanners from Contex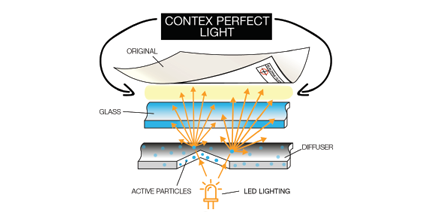 Large format documents are often tricky to scan and digitize on your own. Specialized equipment will not only ensure that your large format materials are scanned safety, but done in one sweep without destroying or bending the original document.
Contex Large Format Scanners
This month we want to take a look at the Contex Large Format Scanners we recommend:
Who is Contex?
Contex is a market leader in large format scanning and for good reason. They are known for their reliability, high-performance capability, and superb quality. All their professional scanner machines make scanning complex large format documents easy.
Contex large format document scanner capabilities
Contex document scanners are available to scan paper widths from 24 inches to 60 inches and at speeds ranging from 2 inches per second to 17.8 inches per second. These large format document scanners can scan bi-tonal, greyscale, RGB (for digital use), and full colour.
Their largest format scanner, the HD Ultra 6000 scans at 17.8 ips (inches per second) and in up to 200dpi RGB colour. It can scan a variety of materials including paper, mylar, canvas, card, watercolours, and even fabric up to a maximum of 7mm (0.28 inches) thick. With automatic width detection and a 1 GB extreme buffer, you can scan more documents faster than ever before.
Using Contex scanners at Micro Com Systems
Not only do we sell this popular and reliable document scanner, but we use several for our clients work as well. With our professional-grade Contex scanners, we can output your scans into various popular digital formats, including TIFF and single or multi-page PDF files in virtually any resolution. For sensitive or already fragile large format documents we have specially made plastic sleeves to envelop the sensitive documents to protect them during the scanning process.
We have a fleet of large format document scanners running in two shifts per day so we can accommodate nearly any production schedule needed.
Learn more about the amazing features of the Contex professional document scanners that we recommend, or contact us to inquire about hiring us to scan your documents for you.