Scan Your Paper Files at Your Place? Sure, Why Not?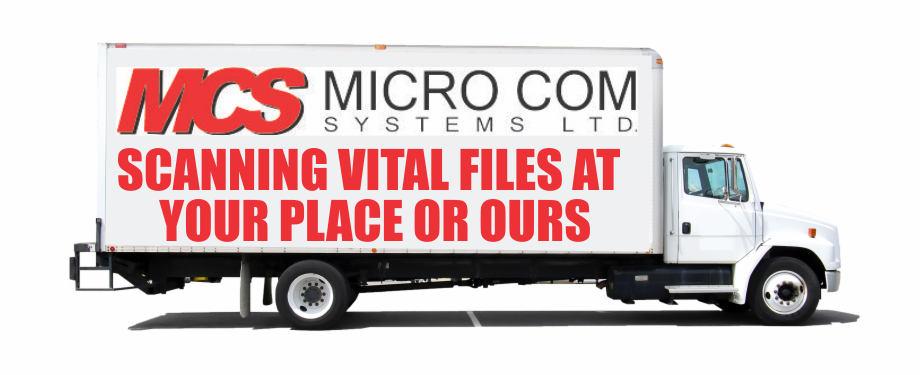 Over the close to 50 years in the document conversion space, MCS has served many thousands of companies, from Mom and Pop home based businesses to monolithic multinational corporations. Businesses large and small generate paper records no matter what type of business they do, and many embrace document scanning as a regular component of record keeping.
Document Scanning Company in Vancouver
One thing that all of these firms have had in common is the need for their paper files to be treated in a confidential manner. In the overwhelming majority of these situations, our clients obtain a high level of comfort in sending the material to our secured facility, but for a small minority, they feel the only 100% certain way to maintain confidentiality is to have us go to their location and set up a scanning environment on premise.
Fortunately, on site conversion projects are a strength we have had since we started offering scanning services in 1992. We had our first engagement at a client's offices the next year, in fact, in the 1990's we had several, once running 2 concurrent installations at different clients' offices.
We assemble a trained team of staff, select the appropriate hardware, computers, monitors, network connectivity as required and simply move in to our customer's space. The metrics as to how many people and how much equipment we send are driven by the project requirements and timelines. Some businesses want to attack these undertakings with a large team and complete things quickly, while others are happier with a slower pace. The customer is always right, we match the output to their expectations and schedule.
Onsite Scanning Services in Vancouver
It is important to note that when we gear up for onsite scanning, we provide everything required. All we need from our clients is sufficient space for our people, desks, chairs and access to the files. We even bring our own carts in order to transport the documents!
Depending on security, we can arrange to transfer the completed scans and meta data via any means that provide comfort. We have used external hard drives, thumb drives, DVD's etc. We have often had one workstation attached to our client's network for document/data delivery, but again, this is all dependent on trust. We can operate completely autonomously with no issues whatsoever.
Micro Com Systems, providing a high level of service and flexibility to the Vancouver marketplace for 48 years!