Season's Greetings from Micro Com Systems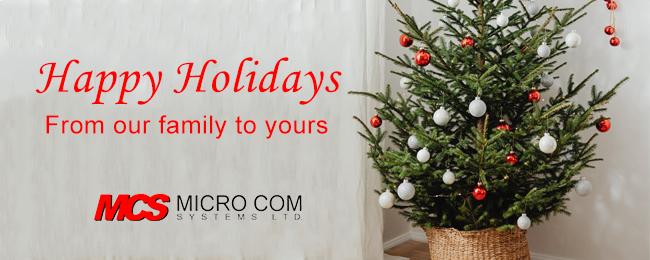 2020 was not what any of us expected, but some of those unexpected surprises were great ones! For our annual holiday blog post, we thought we'd take a more positive look back at all the amazing things that happened this past year.
Renewed focus on self: Many people had extra space this year to focus more attention on themselves and their wellbeing. If you spent more time at home, maybe you found time for more fun activities that you enjoy, to rest, or do some DIY project around the house.
With everything that happened this year, we saw many people looking at what was truly important in their lives and seeking out more of what they want in life.
Renewed focus on family: Many of us spent more time in our homes with our immediate family this year. This has been an amazing opportunity to reconnect with your family without the distractions of the outside world. Many of our staff and their families spent more time playing board games, going for nature walks, and organizing movie nights at home with the family.
This is another trend we hope to see stay in the coming months and years because the benefits have been amazing.
Renewed focus on the environment: With fewer people commuting early in the pandemic, it was a joy to watch the earth begin to heal itself. Smog was lifting from major cities and wildlife was thriving again. With more people working from home and accessing their files digitally, it's possible to guess that pollution from offices has dropped significantly too.
Renewed focus on the future: We've always been ones to look forward to the future with anticipation, but this year we are looking at it differently. People we've talked to are more excited than ever to see how the positive changes from 2020 will continue in the years to come and have a ripple effect for more positive change in the world.
Renewed focus on supporting local: This is another favourite of ours because we love to support our local community and local businesses. Family values are a big part of Micro Com Systems and when we're able to support other businesses with similar values, we feel tremendous joy.
As we say goodbye to 2020 and ring in the new year, we're excited about the possibilities for 2021. We hope we can all continue to keep the values of self and family top of mind for the future. We're excited to grow our business while supporting other businesses along the way.
Everyone in the Micro Com Systems family wants to wish you and your family a very merry holiday season. Our wish is that you spend it doing things that you love with people that you love and that you stay healthy and safe.