Shredding, It's What All the Cool Kids Are Doing!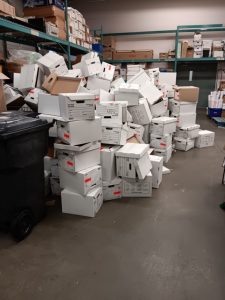 OK, so you have finally decided to embrace any of a great number of reasons to have Micro Com Systems scan your hundreds of boxes of irreplaceable business records. What happens now? Well, for starters, be prepared for a significant increase in the level of customer services you can offer to your clients.
Vancouver On-Site Document Scanning Services
Imagine fielding a call from the Perkins Group wanting a copy of the invoice you sent them in 2017, most likely requested by an auditor. Instead of the usual groveling while someone skulks off to the warehouse to look through multiple file boxes, imagine you locate the requested item with only a few key strokes on your computer and email it off to them?
What about the actual paper files you sent to us for scanning? Good question. Over the decades we have evolved a set of rules to benefit both our clients and ourselves. We provide every client with a 90 day window during which they are encouraged to examine the digital files for quality, completeness, accuracy of meta data and legibility. We employ a highly skilled and experienced team of people, but we are humans, and errors can happen. If anything is discovered that requires correction, we are happy to make things right.
After the 3 months expire, we ask our clients for permission to delete the digital files from our servers, and ask for a written agreement to return of shred
their paper files. Most clients prefer to not have their documents returned and elect to have us shred them securely here on site. We bring in a company to do this for us, and their purpose built trucks can digest roughly 300 bankers boxes per trip.
Document Scanning & Shredding Services in Vancouver
At the conclusion of the process, every client receives a certificate of confidential destruction, and we regain space in our warehouse so the cycle of aging the files during the 90 day inspection period can occur over and over again. We also recycle the boxes so another client can box up their files and have someone else do all the dirty work!